Learn Business basic skills necessary for business-person at the aim of being a trusted person at business.

 Though business skills are neccesary at business to come out with high performance, it is important for you to be trusted by customers, boss, and other people who you work with. There will never be chance for you, without any trust from them.
 To be trusted by the people who you work with, it is important to act the basic business skills. To be concrete, one feature is to behave "Basic behavior at work", such as "Come to the office on time", "Rules of coming and leaving work". Others are do the thing correctly as you were told to do by your boss, and give HOU・REN・SOU during as well as after your mission.
 At "Business manner and basic working", roll playing and case study is ready for you to experience the real work life to realize developing trustful staffs.

■ Instructor : Thai Instructor(POR)
■ Time : 14:00 to 17:30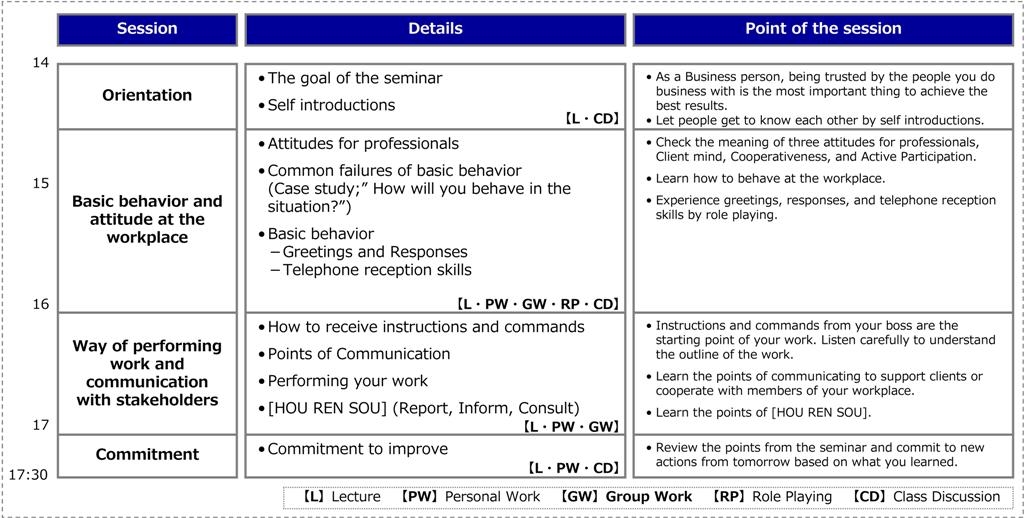 | | | | | | | |
| --- | --- | --- | --- | --- | --- | --- |
| ・ | Thu., Nov. 23 2023 | |  14:00〜17:30 |  Thai Staff (Thai)  | Instructor: POR | |
| ・ | Thu., Dec. 7 2023 | |  14:00〜17:30 |  Thai Staff (Thai)  | Instructor: POR | |
| ・ | Mon., Jan. 9 2024 | |  14:00〜17:30 |  Thai Staff (Thai)  | Instructor: POR | |