Skill to enhance the achievement of work by using the time efficiency.

Time Management is the action in order to enhance achievement of work.
After confirming the purpose of the work, we need to set a goal (deadline and status) and the milestone (the intermediate target). The habit of making a daily schedule is important. Then performing the work without waste, unevenness or unreasonable.

■ Instructor : Thai Instructor
■ Time : 10:00 to 17:00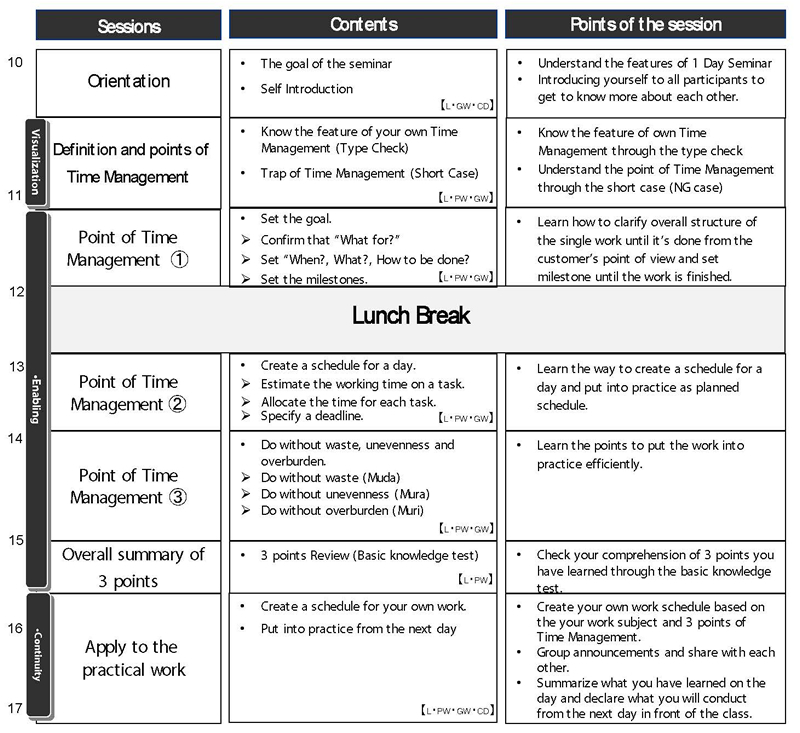 | | | | | | | |
| --- | --- | --- | --- | --- | --- | --- |
| ・ | Fri., Nov. 10 2023 | |  10:00〜17:00 |  Thai Staff (Thai)  | Instructor: POR | |
| ・ | Thu., Dec. 21 2023 | |  10:00〜17:00 |  Thai Staff (Thai)  | Instructor: POR | |
| ・ | Mon., Jan. 30 2024 | |  10:00〜17:00 |  Thai Staff (Thai)  | Instructor: POR | |